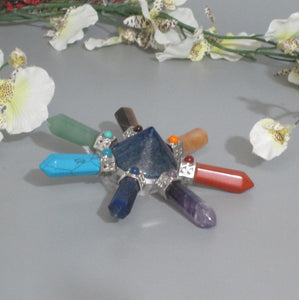 Chakra Point Lapis Energy Generator
This Energy Generator has the energies of seven chakras combined with a powerful center conical pyramid point to amplify energy.
Lapis Lazuli Generator is a handy way to gather, direct, and cleanse the energy within the home, sacred space, and ritual.

Root Red Jasper 
Sacral Carnelian
Solar Plexus  Tigers Eye
Heart  Green Aventurine 
Throat Turquoise 
Third Eye Lapis Lazuli
Crown  Amethyst 
Hold this energy generator while you meditate to bring in powerful healing effects.
Hold it right side up to bring in energy from the Universe, or hold it upside down for self-healing.
---
We Also Recommend
---