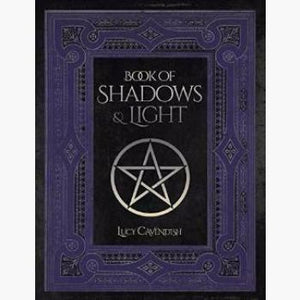 Book of Shadows & Light Lined Journal
Created by renowned author and witch Lucy Cavendish, this deluxe illustrated journal is full of profound and magickal wisdom about the lunar cycles, the Wheel of the Year, and the time-honoured traditions of witchcraft.
A Book of Shadows and Light is your own sacred journal. For hundreds of years, wise ones, magicians, witches and lightworkers of all kinds have kept personal journals in which they have recorded their soul-questing.
Be it through meditation, inner exploration, mystic adventure, spiritual travels, magickal manifestation or blessed spellcrafting and casting, the uncovering of each individual enchanted path is full of unique wisdom. Now you can join these magickal practitioners in the quest to realise your soul's energy as it is meant to manifest within the world.
Through many inspired quotes and musings, Lucy imparts her extraordinary experience and knowledge to assist you in connecting with your divine wisdom, self-knowledge and natural gifts of intuition. This deluxe soft cover journal features 220 pages of cream-coloured premium quality wood-free paper, with a combination of lined and unlined pages to accommodate all facets of your self-expression?you may like to write, doodle, paint or draw. It also includes 44 full-page, color artwork reproductions by Lucy Cavendish to inspire your creative expression.
---
We Also Recommend
---