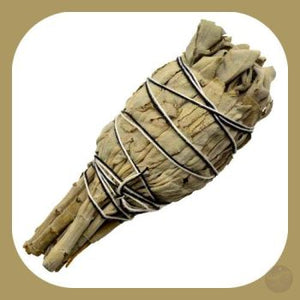 California White Sage Smudge Wand
These tight bundles of California White Sage are a great addition to any ritual practice. Light one and allow the fragrant smoke to carry your prayer and magic
Metaphysically Speaking
Sage is used in wish manifestations and to attract money. Smolder to promote healing and spirituality.
The preferred herb for smudging. 
It drives away disturbances and tensions, and lifts the spirits above the mundane cares of life.
Planet:

 

Jupiter/Mercury
Elemental :

 

Air, Earth
Gender:

 

Masculine
Gods/Goddess:

 

Consus, Zeus, Jupiter, Virgin Mary, 

Quan Yin - Kwan Yin - Kuan Yin

Scent :

 

Woody, Herbaceous, Sweet (sometimes Fruity, Nutty, or Lemony
Chakra:

 

Throat, Crown

Attract Money
Clearing
Cleansing
Clarity
Good Luck
Guidance
Immortality
Knowledge
Longevity
Manifestations
Prosperity
Protection
Purification

Spiritual Journey

Smudging
Wisdom
Wishes

Burn it to consecrate a ritual/sacred space. 
Carry it as an herb of protection.
Good for cleansing and rituals of healing, blessings, prosperity, protection or any purpose. 
Use in spells for: Protection, Wisdom, Health, Money and Riches, Spirituality.
The preferred herb for smudging.  The smoke is used to neutralize the energy of an area. 
Great to use in mojo or spell bags. Mix of full leaves and crushed in each bag. 
---
We Also Recommend
---