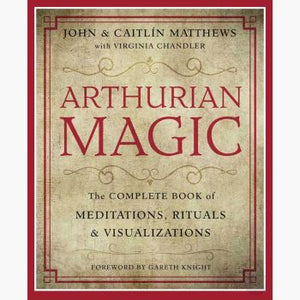 Practical Guide Arthurian Magic
by Matthews & Matthews
Discover a system of magical work based on the stories of Arthur and his legendary realm. With meditations, rituals, visualizations, and pioneering shamanic techniques, Arthurian Magic leads you on a profound soul journey designed to raise consciousness and unleash deep levels of wisdom.
Discover dozens of exercises and a complete twelve-month course of study that will bring the mysteries alive and open your inner awareness to the mystical power of these profound legends. Dozens of magical groups and countless individuals have turned to the Arthurian tales for inspiration, instruction, and initiation.
This book is a guide for beginners and experienced practitioners to cultivate the spiritual power of these influential myths. Explore the sacred sites, songs, blessings, invocations, and festivals.
Create incense and oils for magical workings. Meet the most important and influential archetypal figures as you discover how to awaken the knight within.
---
We Also Recommend
---