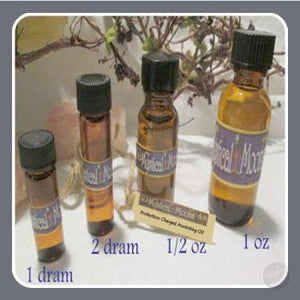 Protection Charged Anointing Oil
Our Protection oil is derived from a blend of pure oils which make it a powerful addition to spells of protection and warding.
Use it to anoint your ritual tools and candles for your spells when you are seeking aid or empowerment in warding off hexes, curses, and spirits and deflecting harmful influences and intentions.
This is a potent addition to blessings and consecrations, and is a welcome addition if you are trying to rid yourself or another of the negative influences of life.
Pure anointing oil, for external use only. 

Massage, visualizing your desire.
Full Moon Charged 
Hand Made in USA
---
We Also Recommend
---