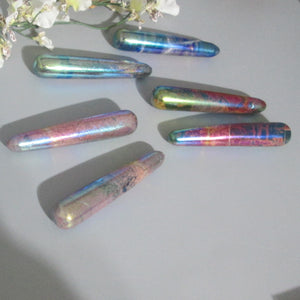 Rainbow Aura Massage Wands
Pick stone below
Ocean Jasper
Lapis lazuli
Rhodonite
Metaphysical Properties 
The rainbow aura is created by taking a 100% natural stone and a thin layer of electroplating for a rainbow finish. Minor imperfections in the finish are normal.
Rhodonite is about the heart and emotional healing. 

Rhodonite will assist in removing emotional wounds & scars from the past. 
Chakra: 

 

Heart /Root

Element:  Water

Planet:   Venus

Vibration:   Number 9

Dignity
Emotional Balance
Forgiveness
Friendship
Harmony
Healing
Insight
Kindness
Love

Meditation
Passion
Self Confidence
Self Worth
Self Love
Unconditional Love
Lapis protects from psychic attacks and is useful in crystal healing for boosting the immune system and helping with sinus problems.
Element:   Ait

Chakra: Third Eye, Heart

Planet:   Jupiter

Associated Crystals:   Azurite, sodalite, turquoise

Zodiac: Libra

Herbs - Incenses - Oils:  Cedar, frankincense, sage, sandalwood

Flowers & Plants: Hollyhock, iris, lupin

Candle Color: Royal blue

Comprehension
E

nlightenment

Fidelity 
Insight into self

Integrity

Love

Manifestations

Psychic Protection

Prophetic Dreams

Psychic Shield

Spiritual Love
Wisdom
Ocean Jasper
Chakras: Root, Heart, Crown
 Zodiac: Scorpio, Virgo
Vibration: 8
Planet: Moon

 


 Balance
Dreaming
Harmony
Journeying

Protection
Psychic development
Sleep
Spiritual guidance
---
We Also Recommend
---