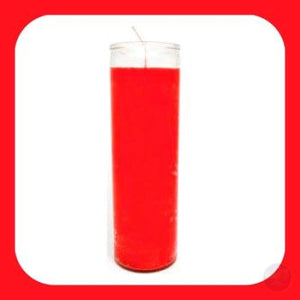 Red 7-day Jar Candle
The color of passion, love, desire, and all things fiery, the red 7-day jar candle is a wonderful addition to candle magic practice, ritual prayer, and similar such spells and practices.
The color of passion, love, warmth, and fire, this candle is a popular ritual tool within a wide variety of magical practices.
Often linked to psychic ability and the qualities of the mind, red candles are of wonderful use within your candle magic and similar ritual practice.
Brownish red color also lends itself to earth magic and rites of passage.
The shade of red candle may vary.
 

Action
Assertiveness
Attraction
Banishing

Compassion

Competition
Conflict
Courage
Danger
Independence
Fertility
Fire Element
Love
Marriage
Mercy

Passion
Personal Power

Psychic Ability

Scorpio Energy

Sensual Pleasures

Sexual Attraction

Sexual Potency
Strength
Sports 
Survival
Vitality
Warmth
War
---
We Also Recommend
---