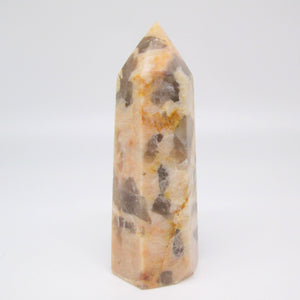 Zebradorite Point
 2.5 oz to 3 oz  Average 2.5-3"
Picked from available 
Rough Zebradorite resembles the stripes of a zebra, interlaced with sunny feldspar and smoky quartz.

Metaphysically Speaking

Zebradorite is known and used as a problem-solver in the form of a worry stone,  rubbed between thumb and index finger.
This stone offers an individual awareness of your personal goals and aspirations. It sparks the imagination and helps with boosting willpower and self-evaluation.
---
We Also Recommend
---